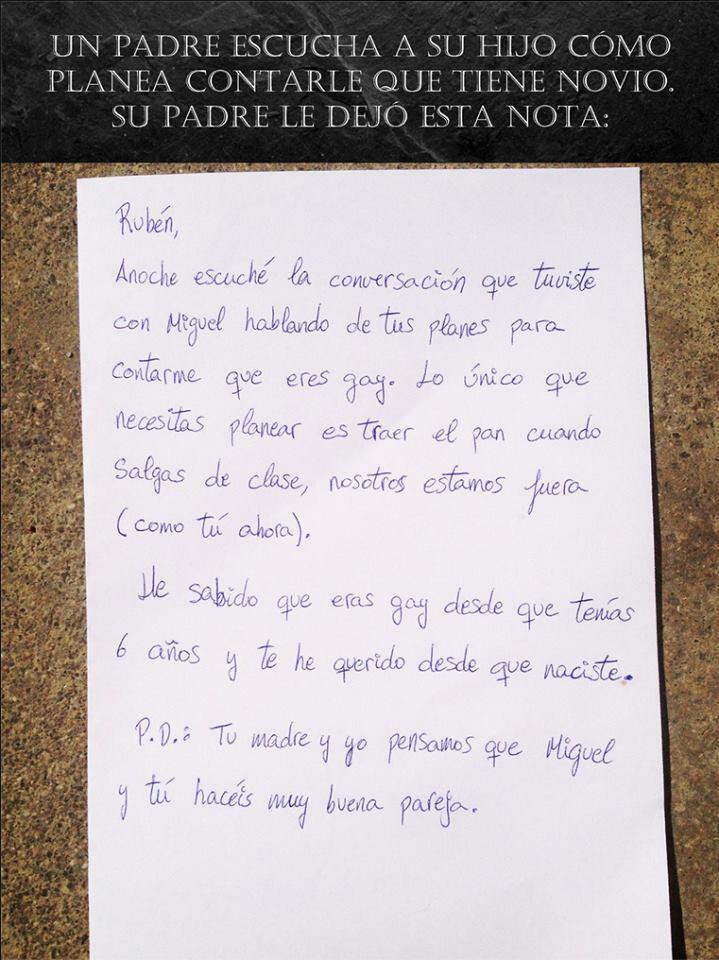 Translation of the note above:
A FATHER HEARS HIS SON HOW DOES HE TELL HIM HAS A BOYFRIEND. HIS FATHER LEFT THIS NOTE:

Rubén:

Last night I heard the conversation you had with Miguel talking about your plans to tell me you're gay. The only thing you have to plan is to bring the bread when you come out from school, we're out (like you, now).

I learned you were gay since you were 6 and I had loved you since you were born.

P.S.: Your mother and me think Miguel and you make a nice couple.
True love knows neither about gender nor anything else. In USA, marriages for everyone are nationwide since June 26th, being same-sex or not. True love won.
With that, also comes the support the LGBT marriages as a fashionable topic. I mean all those rainbow-tainted images in lots of avatars on social networks. Specially here in Chile. How ridiculous look all of those ones! You better celebrate when this happens here!
Of course, I agree all people who want to marry do it whether they're the same gender or not, no matter who are. But I don't have to brag about it. Why I'd have to?
Anyway, congrats, USA.
Jorgicio
P.S.: If you're wondering, no, I'm not gay, but supporting LGBT community does NOT make me one of them.
Related content